After months of planning, development, and jumping through international hoops, the day we've been working so hard for has finally arrived. Our early adopters have placed their preorders, and it's time to assemble our first shipment of Averia Collars! Here's a sneak peek at the preparation process.
The process begins with the preparation of all Averia Collar components. First, our team tests all PCBs to make sure each one works as intended. Boards that pass testing are stacked on a special pallet and move on to the next stage of assembly. An operator then affixes each board to the bottom of an empty Averia Collar hub, seals the hub closed and passes the unit on for IP67 waterproof testing.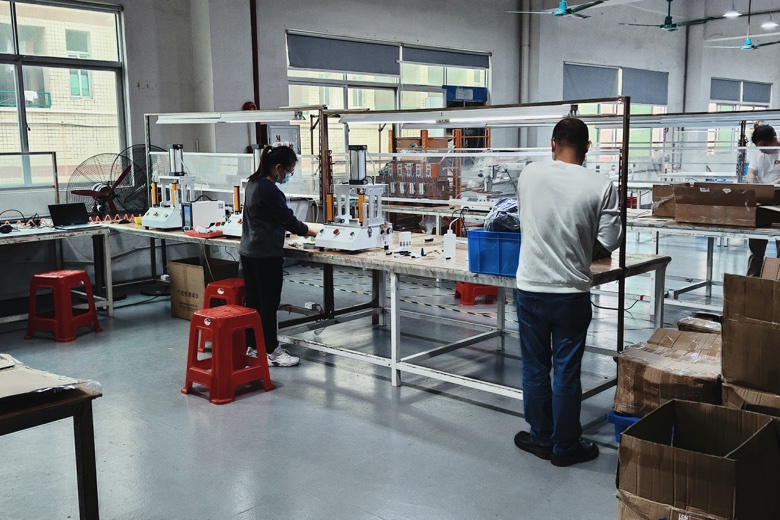 Testing and assembling Averia Collars.
After making sure each device meets IP67 standards for water and dust protection, we move on to the labeling process. Here, each Averia Collar hub is laser-engraved with information like device model, serial number, IMEI and FCC compliance, and more. This sounds pretty basic, but the technology behind the process is pretty impressive. We use a special reader that plugs into the Averia Collar's hub, collects the unit's unique info, and transmits it to the engraver for etching. No two serial numbers are the same, so each Averia Collar is uniquely engraved!
Each Averia Collar case is laser-engraved with unique product information.
After engraving, the fully assembled hub is packaged with a charging cable, user manuals, and a small gift for the buyer. Once boxed up, the hub is placed into a holding sleeve alongside a strap and silicone case.
Voila! The Averia Collar is packaged and waiting to be shipped to its future owner (and their soon-to-be very, very excited pup).
It's been quite the adventure from our earliest days dreaming up a better smart collar until now, and we're so excited to be passing that adventure along to you and your dog. We can't wait to see where you go, what you discover, and the memories you create together!
Want in on the next batch?
If you haven't preordered an Averia Collar, it's not too late to reserve one going out in our next shipment.
Pick one out here