Hello, friends! Welcome to Averia.
Our company is made up of electronics developers, programmers, designers, and more, all united in our love for pets. Averia's goal is simple: help people get more information about their four-legged friends' habits, health, and safety.
We've spent the last six years working relentlessly to perfect Averia Collar. Our latest design is the most powerful yet, and we're overjoyed to see all the positive feedback it's getting. To celebrate Averia Collar launching preorders, we'd like to give you a glimpse into the Collar's design and production journey.
Early Prototypes
One of our first goals was to incorporate the technology we wanted into a wearable collar. This worked, but the initial prototypes were quite bulky, and we knew they wouldn't be comfortable for dogs, nor practical enough for owners.
Passing the Stress Test
We'd heard plenty of other dog collar users complain about their collar's lack of durability—straps would break, or plastic parts would fall off if someone's dog suddenly jolted. As Husky owners, our founders started developing a collar strong enough for this breed, known for its ability to carry large loads (and occasionally treat their dog walkers like said loads). We wanted Averia Collar to withstand stress from any size dog, so we put our designs through countless stress tests in search of the most durable and comfortable material possible.
Look Good, Feel Good
To make Averia Collar's electronic housing (hub) easily attached to a strap, we sought help from Artemy Lebedev Studio, who designed a curved, flexible case for the collar hub. The new adaptable structure also solved for our durability and load-bearing concerns by distributing force throughout the outer surface of the strap, instead of on the collar's electronic parts.
This reinvented design largely became what you see in Averia Collar today, but it wasn't compatible with other collar straps, and was designed a little too specifically for large dog breeds. We set out to decrease the Collar's hub size even further, and wanted to make sure the hub could be strapped onto other collars.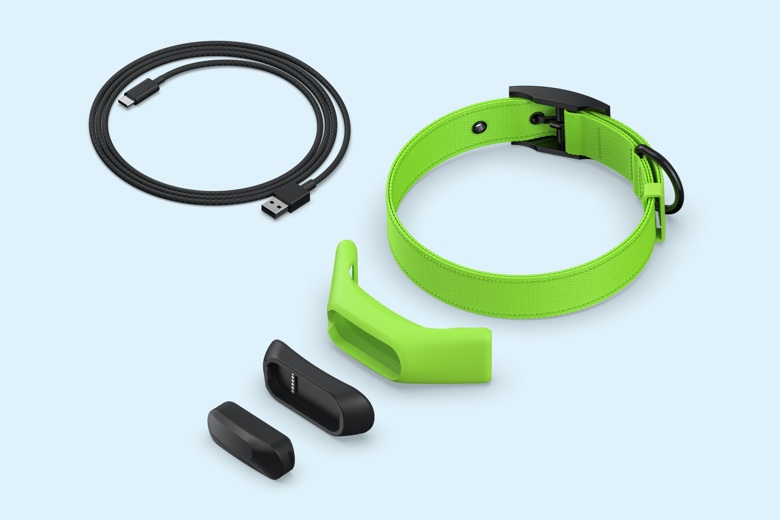 Modern Modular Design
Using cutting-edge technology, we made a series of improvements that led to Averia Collar's current version. We reduced the size of electronic components in the Collar's hub, and redesigned the Collar's silicone case to be removable and compatible with virtually any collar strap so that smaller dogs can comfortably wear it too. Averia Collar now has four modular, sleek, and practical components:
Removable lithium-polymer battery for long-lasting activity
Electronic hub unit for quick battery swaps
Durable silicone case
Comfortable, washable polyester strap
Now, Averia Collar flawlessly utilizes everything that makes a smart collar, well…smarter. It's flexible enough to twist and bend along with your dog, and strong enough to keep the hardware in place. It's built to withstand extreme heat, freezing cold, and nasty weather. The removable lithium-polymer battery lasts up to 30 days on a single charge, and when it's running low, you can easily swap in a fully charged battery. And on top of it all, it's easy on the eyes.
Averia Collar is the ultimate adventure device, and we can't wait for you and your dog to try it out.
If you haven't preordered your Collar yet, don't wait too long—we're offering early adopter pricing for our first batch of orders. Hit the button below to place your preorder!
Pick one out here